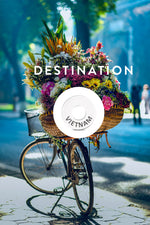 Destination: VIETNAM
"A land of staggering natural beauty and cultural complexities, of dynamic megacities and hill-tribe villages, Vietnam is both exotic and compelling." 
- From our friends at Lonely Planet
* as of July 26th, 2022 
ENTRY:
Fully open with no COVID testing or vaccine requirements. 
A two week whirlwind through Vietnam with Haylsa & Kyle.
Leave a comment below and share any of your travel experiences in Vietnam...can't misses, helpful tips, how to get around etc.