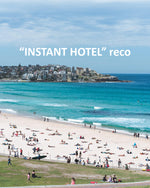 'Instant Hotel' reco
With AirBnb fast becoming a popular option for holiday accommodation, 'Instant Hotel' looks to find the best B&Bs in Australia. The show pits hosts against one other; staying at each other's accommodation and rating the overall experience. On first look, it's an entertaining competition show; but on a deeper level it showcases the variety and brilliance of Australia. From the rainforests in Queensland to the Martian-esque caves of Coober Pedy, the programme highlights the true vastness of the Aussie landscape.
Check out the Trailer here...and you can find season 1 and 2 of 'Instant Hotel' on Netflix!