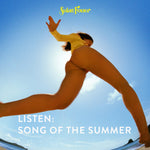 Listen: Song of the Summer
After a  long 4 year hiatus from new music, New-Zealander Lorde has dropped her new highly anticipated single (and music video!), Solar Power. The song, co-wrote and co-produced with Jack Antonoff, (along with Phoebe Bridgers and Clario on back-up vocals) is a stripped-back, chilled out new sound, which will have me gleefully skipping to the beach this summer.
As for the album? Here''s what she has to say: "The album is a celebration of the natural world, an attempt at immortalising the deep, transcendent feelings I have when I'm outdoors. In times of heartache, grief, deep love, or confusion, I look to the natural world for answers. I've learnt to breathe out, and tune in. This is what came through. I want this album to be your summer companion, the one you pump on the drive to the beach. The one that lingers on your skin like a tan as the months get cooler again."
With my summer companion in place, Lorde and I will meet you at the beach! You can listen to Solar Power on Spotify here.