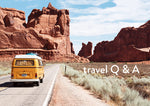 Travel Q&A
We were chatting in the office about how much we would all love a vacation when this whole pandemic situation is over.  We did a little Q&A with a few of us here at TC!
If things were different and you could travel to any country in the world, where would you go?
Jas – The states, because its close and I planned a road trip that I couldn't take last year. 
Matt – Spain, Mallorca for a beach holiday.
Beth – Australia & New Zealand, and road trip around both places! 
Rebecca – Santorini, Greece for a long beach vacation.
Where did you last go on Vacation?
Jas – UK, to visit home
Matt – Mexico 
Beth – Road tripping the south-western states of the US! 
Rebecca – BC, Canada for a Roadtrip
What is the best food you have ever had and where did you get it?
Jas – ICELAND! I had the most amazing lamb dish at Lava by the Blue Lagoon. 
Matt – The best pizza in Capri, Italy. 
Beth – Ponchos Tacos in Puerta Vallarta.
Rebecca – Ottoman Roll in Calis, Turkey.
When you are away from home, what do you miss most?
Jas – My shower.
Matt – My bed! 
Beth – My shower and products. 
Rebecca – My own bathroom.
Have you ever missed a flight? What happened?
Jas – No, almost once, but only because of a connection delay.
Matt – Nope
Beth – No 
Rebecca – Never
What kind of vacation would you like to take next?
Jas – Canadian Road Trip
Matt – Beach 
Beth – Road Trip 
Rebecca - Camping Trip
And finally, what was the first country you ever travelled too??
Jas – Wales 
Rebecca – Also Wales!
Matt – United States
Beth – Unites States too!
Let us know in your answers in the comments!