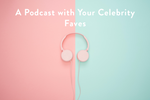 A Podcast with Your Celebrity Faves
I'm sure like many of you I've got a lot more time on my hands to listen to some new podcasts. One of my new favourites suggested by my co-worker, Matt is Off Camera with Sam Jones. It's a detailed and more intimate look into your most admired celebs. Below is a list of my top episodes.
Let us know if you've listened and what your favourite episodes are in the comments below!
Photo by Icons8 Team on Unsplash