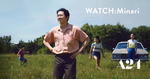 Watch: Minari
I listened to a recent episode of the NPR podcast Fresh Air that Korean-American filmmaker Lee Isaac was featured, speaking about his latest film, Minari. His description of the film is tender and thoughtful recollections of his upbringing was enough inspiration to set up my at home 'theater' for a viewing. (I use the term theater here loosely... a Macbook air with a Bose portable speaker does not a theater make, but...here we are!)
"Minari follows a Korean-American family that moves to an Arkansas farm in search of their own American Dream. The family home changes completely with the arrival of their sly, foul-mouthed, but incredibly loving grandmother. Amidst the instability and challenges of this new life in the rugged Ozarks, Minari shows the undeniable resilience of family and what really makes a home."A few highlights from the interview below:

On watching the film with his family for the first time:
"We watched the film together and slowly I just started to see my mom starting to weep, my sister, my dad. And it just felt like it was such a cathartic experience for all of us. It was really special, really incredible. ...
My mother, she was telling me that she ... never was able to see my grandmother in her dreams. She said that she was always jealous of me because I would always see my grandma in my dreams. And she said, finally, after watching this film, she could see my grandma in her dreams. That was so special. And for my sister, she said that she had just blocked out so much from that time because she found it to be pretty difficult. But she loved seeing it in beauty, in the beauty of what we had in that time."
On choosing Minari as the title: "When I was doing that exercise of writing down all the memories, the last thing that I came to was that little patch of minari that my grandmother and I would go to, that my grandmother would tend and I would throw rocks at snakes. ... Once I had that memory, it just dawned on me that this is what the name of the film is going to have to be.
And I thought, "I'm not going to translate to English. I'm just going to let it be what it is. And if it's ever made, then I guess people will have to learn how to say the word if they want to see it."
I just thought there's something so poetic about the plant as well. It's a hearty plant. It kind of grows in places where you can't grow anything else. It can take root in very poor soil conditions. And what it ends up doing is actually revitalizes the soil and it cleans up the water. It has a purifying effect and so I thought there's a poetic resonance there that this plant speaks to.
You can listen to the podcast on Apple Podcasts here, and stream the film on Amazon Prime here.