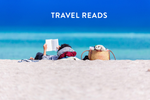 Travel Reads
 Whether I'm bored sitting in the airport, chilling on a beach or waiting for my friends to get ready to go out; when I have downtime on a holiday, I love to crack on with a good book. Here's some I've enjoyed whilst away on vacation.
1.   The Beach by Alex Garland
 Of course I read this book in Thailand before visiting the Thai Islands, how very cliché! Despite seeing the film previously, I enjoyed the read – the storyline differing slightly from the film plot. Once I got to the islands, I could understand why the characters chose to start a new life there.
2.   Fantastic Mr. Fox by Roald Dahl
 My favourite book to read as a child, and probably as an adult too, I remember reading this on one of my first holidays to Greece. A short but entertaining read, all about some crafty foxes outwitting farmers, written in typical charismatic Roald Dahl style.
3.   First They Killed My Father by Loung Ung
 A harrowing yet positive true story of one girl's survival of the Khmer Rouge regime. I read this before visiting Cambodia, as I wanted to learn a little of the country's vast history.
4.   Middlesex by Jeffrey Eugenides
 This book was studied as part of my English degree, so I read it over the summer in preparation. It's a compelling, multi-generational story of one Greek-American family; narrated by Cal who was born intersex. A fascinating read from an under-represented perspective.
5.   Eleanor Oliphont is Completely Fine by Gail Honeyman
 Follow Eleanor through this interesting, twisty tale of her life and prepare to be hit hard in the feels. I liked that I couldn't guess the plot and I read the dialogue in a Scottish accent in my head, which made it all the more charming!
Let us know your favourite travel reads in the comments!