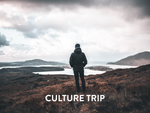 Culture Trip
I've been reading articles on
Culture Trip
recently that I thought might be worth sharing. Although we can't travel recreationally right now, I find it fun to look into potential trips for the future!
They've also launched a podcast called '
Only In
' which provides history, travel tips and discussion about various New York boroughs. So, plenty to read and listen to whilst you're dreaming of travelling!