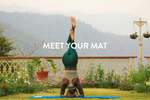 Meet Your Mat
Today at TC we've been discussing our favourite yoga mats. Some of us are just starting out, and some of us are dedicated yoga enthusiasts. But the hot topic today has been around which mat is the best for all our needs. Here's what we came up with:
1.    The Everyday by B-Mat
Loved by me because it is the best mat I've found for hot practice, sweaty flows and general high intensity training of any sort. I love this mat because it provides me with the ultimate grip, it doesn't roll up at the ends and I personally really like the solid block colours. I don't usually have to use a towel with this mat, even in the hottest of classes. I patricianly love the dark green colour as it's easy to clean and has that earthy tone.
https://byoganow.com/collections/b-mat-everyday/products/the-b-mat-everyday-4mm-ocean-green
2.    PROLITE by Manduka
Another favourite from the team for similar reasons, as it this mat is also great for perfect grip in the hot studio. It's comfy, durable, feels great and again comes in a nice range of solid colours. This mat is pretty lightweight in comparison to others, but for me, I don't love the texture of it personally.
https://ca.manduka.com/products/prolite-yoga-mat?variant=30194567675938
3.    The Reversable by Lululemon
This mat comes highly recommended by so many people, and for great reason. It's durable, designed for yoga lovers and it cleans well. There are lots of lovely pattern designs to choose from and I always see these mats in every studio. For me, I don't love the grip and I find this mat slightly on the heavy side.
https://shop.lululemon.com/p/yoga-mats/The-Reversible-Mat-5/_/prod6740115?color=3327&sz=ONESIZE
Let us know what your favourite yoga mat is in the comments.(absolutely not sponsored in any way, just a genuine endorsement)