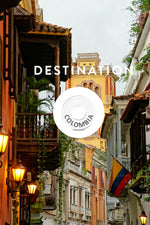 Destination: COLOMBIA
"Soaring Andean summits, unspoiled Caribbean coast, enigmatic Amazon jungle, pre-Columbian architecture and multi-cultural communities. Colombia boasts all of South America's allure, and more." 
- From our friends at Lonely Planet
* as of May 17th, 2022 
ENTRY:
Required to be fully vaccinated.  
An in-depth look at BackPacker Steve's 5-week trip through Colombia where he visits the top tourist destinations along with some hidden gems.
Leave a comment below and share any of your travel experiences in Colombia...can't misses, helpful tips, how to get around etc.