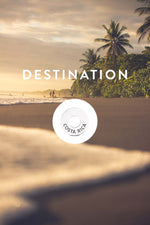 Destination: COSTA RICA
"Centering yourself on a surfboard or yoga mat, descending into bat-filled caves or ascending misty volcanic peaks, hiking, biking or ziplining – your only limit is your return date." 
- From our friends at Lonely Planet
* as of January 5th, 2022 
ENTRY:
No need for a COVID test to enter country. 
Unvaccinated travellers must have proof of travel health insurance. 
Must acquire a Digital Health Card online prior to arrival, regardless of vaccine status. This QR Code must be shown at border upon entry. 
WHILE THERE:
Mandatory masks indoors and public transport. 
Must be fully vaccinated to enter most venues (bars, restaurants, malls, theatres etc).
A helpful video that touches on the history of Costa Rica, but focuses on 12 great travel tips that will no doubt help your trip planning. 
Leave a comment below and share some of your Costa Rican travel experiences...can't misses, helpful tips, how to get around etc.