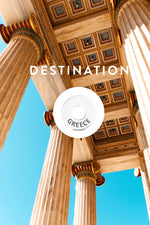 Destination: GREECE
"Greece is ancient sun-bleached ruins piercing blue skies, the balmy Aegean lapping an endless coastline and a culture alive with passionate music, wonderful cuisine and thrill-seeking activities." 
- From our friends at Lonely Planet
Lost LeBlanc sharing some super helpful info on making the most of your time in Greece!  
Leave a comment below and share any of your travel experiences in Greece...can't misses, helpful tips, how to get around etc.