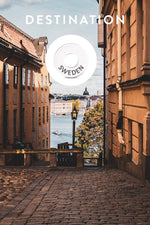 Destination: SWEDEN
"Offering everything from deep-blue archipelagos and Northern Lights, to killer fashion, food and design, Sweden is a Nordic dream date." 
- From our friends at Lonely Planet
* as of April 4th, 2022 
ENTRY:
WHILE THERE:
A very cool look at what life in Northern Sweden is like. From darks winters to 24 hour sunlight in the summer.
Leave a comment below and share any of your travel experiences in Sweden...can't misses, helpful tips, how to get around etc.