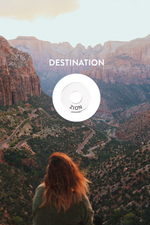 Destination: ZION
Get ready for an overdose of awesome. The soaring red-and-white cliffs of Zion Canyon, one of southern Utah's most dramatic natural wonders, rise high over the Virgin River. Hiking downriver through the Narrows or peering beyond Angels Landing after a 1500ft ascent is indeed amazing. But, for all its awe-inspiring majesty, the park also holds more delicate beauties: weeping rocks, tiny grottoes, hanging gardens and meadows of mesa-top wildflowers. Lush vegetation and low elevation give these magnificent rock formations a different feel from the barren parks in the east.
Most of the park's 4.5 million annual visitors enter along Zion Canyon floor. Even challenging hikes become congested between May and September (shuttle required). Yet, there are other options. Up-country, on the mesa tops (7000ft), it's easy to escape the crowds – and the heat. And the Kolob Canyons section, 40 miles northwest by car, sees one-tenth of the visitors year-round.
- From our friends at Lonely Planet
Looking to Commemorate The Parks You've Visited?