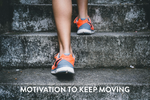 Motivation to Keep Moving
I happened upon a blog written by an 84 year old from North Vancouver recently, Over 50 and Fit. Reading through Barrie's posts, I felt inspired to challenge myself (aged 30) to mix things up and move more!
I'm an amateur hiker and love walking, so I've got that covered, but I want to introduce higher intensity exercise to my life. I just bought a bike and plan to go on long bike rides with my partner. I've also started to do HIIT workouts with Trainer Kaitlin on YouTube and have downloaded a 'Couch to 5K' app on my phone – with every intention of starting it soon! With the days getting longer here in Western Canada, it's becoming increasingly difficult to think of excuses not to get out there and exercise more frequently.