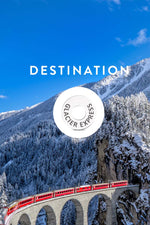 Riding the Glacier EXPRESS
"An incredible 300km journey through the Swiss Alps, the Glacier Express offers riders magnificent mountain views between Zermatt and St. Mortiz." 
Now many of us have been on plenty of trains during our travels, but few can match this incredible trip through the Alps. Learn more about the railway here!
Take a ride with Kara and Nate as they decide whether a $300 First Class ticket is worth it!
Leave a comment below and share any of your travel experiences in the Swiss Alps...can't misses, helpful tips, how to get around etc.