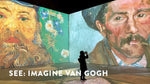 SEE: Imagine Van Gogh
This past weekend I was able to slip out for some covid-friendly fun, seeing the Imagine Van Gogh exhibit that is currently stationed here in Vancouver.
It is an immersive exhibition, where his familiar works are projected (using some crazy technology that I can't explain) along with music by the composers Mozart, Bach, Saint-Saëns, Delibes and Satie.
For the rest of the year, the exhibit has 3 other planned stops in North America: Edmonton, Tacoma, and Boston.
If you reside in one of those cities, you can checkout tickets here!