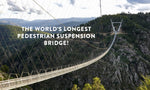 The World's Longest Pedestrian Suspension Bridge
Check out this absolute treck of a suspension bridge in Portugal! Coming in at 1,693ft long and 574ft above the river below it, the Arouca 516 is officially the world's longest pedestrian suspension bridge. Connecting the Paiva Gorge to the Aguieiras waterfall, the bridge is suspended between two huge V-shaped concrete structures and hangs above the Rio Paiva river. Tourists will be welcomed to visit this new impressive attraction for as little as 12Euros for adults, and 10Euros for seniors, kids and students.
Here's a video to check out: https://www.youtube.com/watch?v=y-qi9xhTDJQ
Would you want to cross the longest suspension bridge in the world? Let us know in the comments.