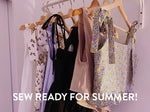 Sew Ready for Summer
I'm sure many of us in the Northern Hemisphere have a bit of the winter blues. In the Pacific Northwest it is especially grey and rainy this time of year and the sun seems like a distant memory that you're not really sure exists anymore. But instead of stewing in the boredom of lockdown and sulking for summer, I've decided to sew my way through beginner friendly YouTube tutorials from The Essentials Club. The creator is a woman named Maddy Rawling from Australia where it is currently summer, so the tutorials she's been releasing have definitely reflected that. Her whole philosophy is to create ethical clothing from natural fibres or repurposing fabrics. And if you can't make it to ethically source it – like thrifting! The pieces I've made so far have me so excited and ready for the most anticipated season in Canada (for me anyway). If you have a sewing machine and a craving to create, I highly recommend Maddy's easy to follow videos and blog posts!
With her instruction I've been able to make crops from the dress tutorial, a babydoll dress from scratch, and tank tops! Summer, here I come!