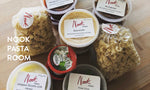 Nook Pasta Room
If I got anything good from this Pandemic, it is the Nook Pasta Room. Nook, is a local favourite Italian spot with 3 cozy locations peppered throughout the city. Due to COVID restrictions, they opened the Nook Pasta Room, where you can enjoy meal kits of the greatest hits from their menu (think handmade noodles, burrata and spreads galore) to make and enjoy in the comfort of your own home. You can check out their instagram here for some inspiration.
My favourites include the spicy Pandemico Pomodoro, or Cacio Pepe, but this weekend I'm gonna swing by and pick up a Veggie Lasagna - lucky for me, it is only a block away from my apartment.
Do any local hotspots near you have take home meal kits making staying home (as the Italians would say it) deliziosa?