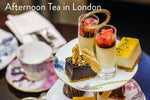 Afternoon Tea in London
Afternoon tea, once a fancy snack for the aristocracy in between meals; is now a booming foodie experience for the masses. Here's our take on some tea-riffic spots in London, UK!
The Traditional – The Ritz, Mayfair
You can't go wrong with The Ritz's offering: glamour, splendour and atmosphere aplenty. Served 5 times daily in the stunning tea rooms, often with a string quartet – this is a truly special experience. You can also add a glass of champagne to your tea, for that extra slice of luxury!
The 2-in-1 – Brigit's Bakery, Covent Garden
You can kill two birds with one stone, as Brigit's offer an afternoon tea aboard an old, red routemaster bus! See the famous sights of London town (including Big Ben, Hyde Park, Royal Albert Hall and Westminster Abbey) whilst you scoff their delectable baked goods.
The Vegan – Farmacy, Notting Hill
For those looking for a totally plant-based tea, Farmacy can hook you up! They've been championing locally sourced, organic ingredients for their restaurant since the beginning. The high tea they provide is gastronomically gorgeous and free from dairy, refined sugars and additives; so you can feel good even after stuffing your face!
The Kooky – Sketch, Mayfair
If you're looking for a mind-blowing aesthetic, then Sketch is your go-to gaff. The décor is STUH-NING and will make a lasting impression. The food is equally as impressive, with intriguing twists on classic afternoon tea staples. Also, make a point of taking a trip to the bathroom…the 'eggloos' are unforgettable!
The Fantasy – Sanderson, Fitzrovia
You won't want to be late for a very important date at the Sanderson! Their themed tea is based on the Mad Hatter's Tea Party and does not disappoint. The food certainly looks the part, disguised as kitsch pocket watches, flowerpots and toadstools. The display is impeccable too, complete with Alice in Wonderland inspired crockery and 'Drink Me' potion bottles.
The View – Oblix, London Bridge
If you're interested in going to new heights, this afternoon tea in the Shard (the tallest building in the UK) will be right up your alley. Oblix source their ingredients from local suppliers and reflect the diversity of London in their menu. Served on the 32nd floor, you'll get panoramic views of the capital - go for sunset to experience London in both the day and night!