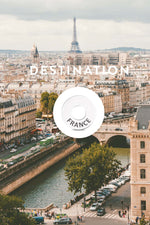 Destination: FRANCE
"France seduces travellers with its unfalteringly familiar culture, woven around cafe terraces, village-square markets and lace-curtained bistros with their plat du jour (dish of the day) chalked on the board." 
- From our friends at Lonely Planet
* as of September 12th, 2022 
ENTRY:
The fellas from TOPJAW sharing their alternative guide in Paris. Big fan of their channel...
Leave a comment below and share any of your travel experiences in France...can't misses, helpful tips, how to get around etc.