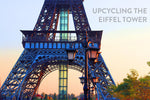 Upcycling The Eiffel Tower
Friday July 26, 2024 will bring around the 28th Summer Olympics, hosted in the beautiful capital of France. Ahead of Paris 2024, the highly recognisable Eiffel Tower will be receiving a long-overdue makeover that will enhance its appearance for the event.
The Eiffel Tower was built between 1887 and 1889, and originally constructed as the entrance for the Exposition Universelle (1889), an open competition to design a magnificent focal point to the World's Fair. At that time, it was the tallest structure in the world, until the
Chrysler Building was erected in New York in 1930. Fashioned from puddled iron, the tower weighs in at around 10,100 tons, and stands at 324 metres (1,063 ft) tall. I have personally climbed the 674 steps up to the 2nd floor of the Eiffel Tower and it's not an easy task, especially during the windy season. This eye-catching structure gathers over 7 million visitors per year, and over 250 million sight-seers have took a trip to the tower since it originally opened.
It takes 60 tonnes of paint to glam up the Eiffel Tower, and it has already been repainted 19 times and it was once painted yellow. This time, instead of the usual custom Eiffel Tower brown that was originally chosen in 1968, the tower will have a slight change of hue to a more yellowly golden-brown colour, in celebration of the Olympic games. Costing around $60 million, the Eiffel Tower is due to be revamped before the Olympic season.
Are you excited for the reveal? Tell us in the comments what your favourite Olympic event is.