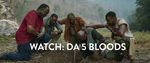 Watch: Da 5 Bloods
Spike Lee has spent his entire career making films that force America to confront its history, and how it's been told.
His latest film is no different. Da 5 Bloods, a Netflix-joint, released last year, centers on Vietnam veterans. In the initial screenplay, the majority of the characters where white, but Lee and his cowriter Kevin Willmott purposefully rewrote them as Black soldiers.
The inspiration behind the revamp is best told by Lee, himself: "The fact is that the majority of the films that dealt with Vietnam, the Black experience was not a part of the story," Lee told NPR. "When we got the script from the producer ... Kevin and I automatically knew what we needed to do. ... This would give us the opportunity to tell the story of the Black effort, the 'Bloods,' who fought and died in Vietnam."
The highlight for me was Delroy Lindo's performance as Paul, a vet struggling with PTSD who ends up being the focal point of the story.
You can stream Da 5 Bloods on Netflix here and watch the trailer here.