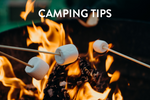 Camping Tips
Camping season is upon us and if you're able to get to a local campsite this summer I have some suggestions for a satisfying overnight stay! 
Make and pack ahead a large portion of pasta salad: here's a quick and delicious recipe from Pinch of Yum.
It's a quick easy snack or meal when you're not feeling like the same boring hotdog you had for lunch
Stores easy in a big resealable bag in your cooler which is a great space saver
Hack your S'mores by making it with Celebration milk chocolate cookies
The milk chocolate is built right into the cookie! And the cookie is the perfect shape! Magic.
Bring a couple of games like Taboo or Mad Gab
When things dwindle down after your day of adventuring, games like these are great to keep things fun
Pack an all-natural bug spray that actually goes a long way like this one from Shoreline Body Co.
Honestly this stuff packs a punch! I used this while working on a film set in Tofino and the mosquitos were a plenty. I was the only one not getting bit or bothered thanks to this amazing natural repellent.
And bonus! No crazy smelling chemicals that seem to barely work anyway. 
I hope you have a great camping season and if you have any tips you'd like to share, write them in the comments below!