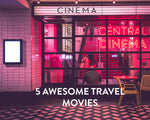 5 Awesome Travel Movies
It seems like a long time since we were able to travel, in fact, it's been over a year since I have taken a real trip. This probably rings home for most people too with all the cancellations, restrictions, and risk weighing heavy on us all during this pandemic. January is never really the most fun month, and for a lot of us it's a cold one too, which is usually why we start thinking about our next vacation around this time. But, this could be the perfect time to get down to watching some seriously amazing travel related movies, see what's out there and maybe find some inspiration for where you could go when you finally can. These are some of my favourite inspirational travel movies that get me wanting to find the next place to explore. Get yourself comfy, pour yourself your favourite tropical beverage, and treat yourself to a little indoor screen time vacation….
1. The Darjeeling Limited (2007)
One of the funniest and most brilliant Wes Anderson movies of all time. Follow three recently bereaved brothers on a train journey through India, as they awkwardly try to reconnect with each other. Strap yourself in for some beautiful cinematic scenescapes, and of course, one hell of a soundtrack. This is a guaranteed way to give yourself the urge to buy a train ticket and go and experience it yourself. VIEW THE TRAILER 
2. In Bruges (2008)
Follow a couple of hitmen hanging around in Bruges, Belgium awaiting their fate after a big mess up. Take in some historic city sights, medieval architecture and some hilarious dark humour along the way. An unusual choice as far as travel movies go, but you won't be disappointed by the blend of two different attitudes - one finds himself in love with the place, and the other cannot see the beauty that surrounds him. May remind you of a trip you once took! VIEW THE TRAILER 
3. Lost In Translation (2003)
Set in Tokyo, Japan, you will follow a lonely woman and an old movie star getting to know each other in unusual surroundings, both unhappy and confused by the cultural differences they are faced with. You might find yourself wondering if travel is what you need to find happiness. VIEW THE TRAILER 
4. The Beach (2000)
A young Leonardo DiCaprio plays a curious backpacker on the prowl for something exciting, only to stumble upon a map that will lead him to an exciting and dangerous piece of secret beach. It is fantastic to see Thailand before it became as popular with tourism as it is now, and you might find yourself wanting to find your own secret bit of paradise too. VIEW THE TRAILER
5. Midnight in Paris (2011)
This is a movie filled with nostalgia and will lead you through a time-warp of Paris. You can indulge yourself in the inspiration that guided so many influential authors, poets and artists of our past. It's an unusual choice for a travel movie, but taking in the scenes and the experiences of the characters will leave you wanting to go get inspired yourself. VIEW THE TRAILER  
These are just a few of my favourite travel inspiring movies that I think will give you a boost of wanderlust and leave you wanting to find your next adventure. What's your favourite travel movie?