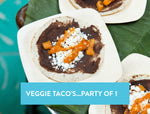 Veggies Taco's, Party of 1
Usually this time of year, I would be busy planning an annual trip to Puerto Vallarta, Mexico where my mom luckily has a place. Obviously, the trip is postponed, but we wanted to celebrate regardless, so this weekend we have planned an at-home taco night over Zoom!
Regretfully, I am typically useless in the kitchen, so I like to follow this idiot-proof (modified) recipe for Black Bean and Sweet Potato Tacos from goop.com:

INGREDIENTS:
1 large sweet potatoes, peeled and diced
1 tablespoon olive oil
1 teaspoon salt
1/4 of a 14-ounce can of refried black beans
1 cup of your favourite salsa
1/2 cup crumbled queso fresco

STEPS
1. Preheat the oven to 350°F.
2. Toss the diced sweet potatoes with the olive oil and salt and place on a baking sheet. Bake in the oven for 20-25 minutes, or until tender and caramelized.
3. Heat a griddle or sauté pan over medium-high heat. Add a little olive oil, and heat each tortilla in the pan until warm and softened.
4. Spread 1-2 tablespoons of black beans evenly onto each tortilla, then top with roasted sweet potatoes, some salsa, and queso fresco.

I would normally be pairing my tacos with a classic Margarita, but this time around my margs will be sans tequila!

For an alcohol free option, I like to mix 1oz of the Pineapple, Ginger + Hops Shrub Mix (from local restaurant in Vancouver, Chambar) with some soda on ice, garnish with a lime wedge, a sprig of fresh mint and you're good to go!