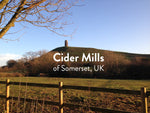 Cider Mills of Somerset, UK
Cider has long played second fiddle to beer in the bar scene, but we think it's high time a cider revolution came to fruition! It's been a staple in England for thousands of years – appley, alcoholic and absolutely lush.

We're going to introduce you to 3 craft mills in the heart of British cider country!
 
1.   Perry's Cider Mills
Parking in an orchard? Check. Museum telling the history of cider-making at the farm? Check. Garden to sit in and enjoy a cheeky pint? Check.
Perry's choose to showcase the exceptional variety available locally, you'll find no artificial flavours or colours here. From the striking packaging to the strong, appley tastes – you simply cannot pick a bad drink! Their award-winning ciders are available by the bottle, case or growler (if you're shopping in person). As well as copious amounts of the golden stuff, there is a farm shop selling local food, drink and goods. Attached to the shop is a small café, where you can enjoy a light lunch. You can easily spend an afternoon here; lazing in the sun, listening to the tractors humming around the village and sipping on their delicious cider.

Personal recommendation: Medium Vintage in a growler or Dabinett and Redstreak in bottles/case

Website: www.perryscider.co.uk / Instagram: @perryscider
2.   Somerset Cider Brandy Company & Burrow Hill Cider
An absolute gem, hidden in a tiny hamlet. Burrow Hill is the official supplier of the Glastonbury Festival Cider Bus – so you KNOW it's mighty fine! They've been making cider for over 200 years and every bottle can be traced back to its orchard of origin.

The variety at Burrow Hill is astounding, you can tell they're connoisseurs! Not only do they offer still and sparkling apple cider, but you can also purchase perry (pear) cider, fermented cider, a range of liqueurs and vinegars. There's something for everyone! The scenery surrounding the farm is a marvel in itself, rolling green hills and superb views over the Somerset Levels. After taking it all in, you can tour the farm; seeing the orchards, distillery, farm shop and barrel bonds. If you're lucky enough to get there in the autumn, you'll get to see the mountains of ripe apples in the yard before they're fermented into cider!

Personal recommendation: Medium in a growler or Ice Cider in a bottle

Website: www.somersetciderbrandy.com / Instagram: @somersetciderbrandy
3.   Sheppy's Cider Farm Shop
A traditional Somerset cider farm, with a boujie twist! Sheppy's offers visitors not only a café, restaurant and shop, but educational 'Harvest Cider' tours encompassing the whole operation.

They've been making craft cider for 200 years, with people flocking to Sheppy's for cider tasting flights, delicious foodie delights and functions held in an old cider vat! At the beginning of the harvest, Sheppy's run their own mini festival on the farm: 'Sheppyfest'. Celebrating local musical talent with lashings of cider; festival goers can indulge themselves and camp on the farm. As well as delectable apple options, Sheppy's offer low-alcohol, winter-spiced and fruity flavoured ciders.

Personal recommendation: Vintage Reserve and Kingston Black bottles

Website: www.sheppyscider.com / Instagram: @sheppyscider
Please note that some businesses listed may be temporarily closed, due to the COVID-19 pandemic. Ensure you check local restrictions and the businesses websites before attending in person. Don't worry if you can't get there just now, as all businesses listed above offer online sales (shipping restrictions may apply), so you can enjoy that golden nectar in the comfort of your own home!
Let us know your favourite ciders in the comments :)