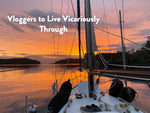 Vloggers to Live Vicariously Through
Living in the Pacific Northwest, I am lucky enough to be surrounded by gorgeous nature, gulf islands and forests. Normally, come summer my husband and I are able to take a couple of boat trips on our friend's sailboat - which always brings lots of laughter, fun and adventure. Due to Covid-19 however, we've had to put those longer trips on hold. Instead, I've been loving to live vicariously through Sailing La Vagabonde's YouTube channel. In these videos you'll feel transported to salty waters and sunny skies. I hope you enjoy these as much as I do while also feeling a teensy bit jealous!
Have you ever been on a sailing trip or to the Pacific Northwest? Tell us your experience in the comments - We'd love to hear them!