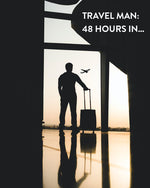 Travel Man: 48 Hours In…
So…you've completed Netflix? And who'd blame ya?! With worldwide restrictions, staying in and binge-watching shows has become a pastime for most.
If you're searching for something that'll ignite some wanderlust, look no further than 'Travel Man: 48 Hours In…'. In this show, British comedian, writer and actor Richard Ayoade gives a whole new take on city breaks. With his typical wit and sarcasm, Richard, alongside his comedic companions, gives the lowdown on how to spend 48 hours in a variety of locations. From Hamburg to Miami to Ljubljana - you'll get bursts of culture, cuisine and comedy. This funny travel show is like no other and, with 9 seasons, is perfect to overindulge in!
You can find more information about the show on this webpage.
What's been your go-to show recently? Let us know in the comments.