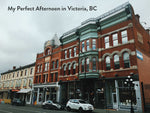 My Perfect Afternoon in Victoria BC: Lower Johnson & Market Square
Victoria will always have a special place in my heart as it was the first home away from home that I made for myself. The people are friendly, creative, and generous and not to mention the scenery is breathtaking. I could spend hours on Dallas Road staring at the ocean or walking around downtown visiting with friends. Since moving to Vancouver, I still love going back to visit. So, for BC locals who can travel small, I've began to compile a list of places to check out starting with my perfect afternoon on Lower Johnson and Market Square.
1) Get your cup of coffee or comfort drink of choice at Hey Happy – A cozy little coffee shop connecting from Lower Johnson through the front door and to Market Square from the back. The creativity and dedication from the staff to an amazing cup of deliciousness is definitely proven once you have your first sip. My favourite drink has to be the Honey Latte! They also carry an array of baked goods and food if you're feeling like having a nibble.
2) Next, if you're anything like me, I love a good thrift shop and this area does not disappoint. My two favourite places to hit up are Flavour Upstairs and Vintage After Death. Both of these shops are the ones to thank for my most complimented-on pieces.
3) Once I've done my shopping and am feeling a little snacky I love to hit up Ayo Eat – an Indonesian street food stall in Market Square. My favourite item on the menu is the Satay Ayam (3 chicken satay skewers with peanut sauce, rice and pickle). After that you can finish off the afternoon with a beer in the courtyard at Whistle Buoy Brewing Company.
There you have it. My personal favourite afternoon in Victoria BC. Pick and choose or leave it all to go explore. Victoria is an extremely pedestrian friendly city that never disappoints for delicious food, good shopping and incredible views. You could even take that coffee on a nice walk across the new Johnson Street Bridge and enjoy the ocean breeze.
Have you ever been to Victoria BC? Let us know your favourite spots in the comments below!