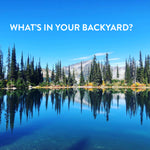 What's in Your Backyard?
Looking back on some photos this weekend gave me an idea to write up a few of my favourite spots I've visited here in Canada over the past few years. Particularly, I was reminiscing on the time I've spent around British Columbia, as this is where I am lucky enough to live. It feels like a lifetime ago since we've been able to roam freely around our provinces, states, counties, districts and regions, and for me it's been a great distraction to look back on some trips I've already taken. If, like me, you are eagerly anticipating the excursions you can take once the world starts to open back up again, then taking this time to plan a few road trips that you could take locally might be a good place to start. I hope this small insight into some of the quirky little locations I've been too might inspire you to start planning a trip of your own for the future. It's not always about the magnificent scenery and the mountainous views, sometimes it's the unexpected places where you find the most fun. Occasionally you don't have to go too far to find something new, and if staying local is the best thing to do it might be a good idea to look into some places near you that you might be able to explore one day.
Here are some cool spots I found whilst out exploring British Columbia….
DEMILLE'S FARM MARKET (SALMON ARM)

Salmon Arm is a city along the Shuswap Regional District, which is upon a beautiful lake. Driving through this area will afford you some amazing views across the Little Mountain Park. I've stopped at this market several times, not just for the local organic produce and snacks, but for the petting zoo too. For a donation you can take yourself for a walk through the little farm where you can meet some pigs, sheep, ducks, miniature goats and some alpaca's too. After a long stretch of driving, this is a great way to stretch your legs, make some new friends and even get a nice cuddle from a super friendly llama, if that's your thing.
THE GLASS HOUSE (KOOTENAY LAKE) 

Located around Boswell, British Columbia, just on the east shore of the Kootenay Lake lies an unusually beautiful piece of architecture. Construction of the Glass House began in 1952 by David H Brown, after retiring from 35 years in the funeral business. Built with thousands of discarded embalming fluid bottles, the house was constructed by hand. Originally built as a home for Brown and his wife, the house is now a visitor attraction. 
Upon entering the garden of the house, which is also surrounded by glass walls, bridges and towers; you will be guided through the house. With all it's original decoration and furniture this place will really take you back in time, and seeing every intricate detail of how this home was constructed will leave you baffled. The views of the Kootenay lake from the backyard will really make you feel glad you visited and the staff are really keen to answer any questions and show you everything you want to see.
OSOYOOS FRUIT STANDS (OSOYOOS)
Osoyoos is a beautiful lakeside town in the Okanagan Valley of BC. The location is picturesque, with panoramic views of mountains, desert and vineyards. Typically, a go-to summer vacation spot for locals and Canadians across the country, this place is full of amazing wineries, beautiful beaches, desert trails, water sports and restaurants. I would recommend camping here if you go in the summer, as watching the stars in the warm evenings is pretty special. The one thing that enjoyed even more than tasting the local wine and dipping my toes in the chilly lake under the summer sun was picking my own peach from an orchard. Finding a local stall and purchasing fruit from the person who grew it, doesn't get much better than that.
BRITANNIA MINE MUSEUM (BRITANNIA
Just outside of Vancouver on the Howe Sound, along the beautiful Sea-To-Sky highway lined with views of the gulf islands, is this spot where the mine used to operate. It's one of those places that I often pass and think to myself, "I really want to check that out", but never do. I finally got the chance to visit this place on a sunny but cold January morning, and it really was as cool as I thought it might be. Maybe you think that an old mine might not be an interesting place to visit, but it's a lot more fascinating than you might think. The architecture of the Mill 3 alone is outstanding, built in 1923, this structure is moulded against the mountain face and once you get a view inside you will see how amazing it actually is. You can jump on the underground train and go back in time to see how the miners used to work, check out the museum and learn about the effects mining has had on the local environment and what the province has been doing to rectify the damage. You might just learn a few things you might never had if you'd not stopped to check it out. A little reminder to pull-in at that place you've always wondered about…when you can, of course.
Hope this list of the little places I've kept in my mind inspire you to take a good look at what's in your back yard, and hopefully find something a little local to visit when you can. Are there any spots local to you that stick out in your mind?