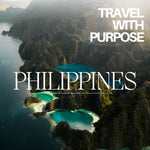 A Guide to Responsible Travel in the PHILIPPINES
If you're looking for a thrilling, heart-racing adventure or just want to take it easy, the Philippines has something to suit every kind of traveller. Take it from us, the world travellers behind Traveller Collective, this wonder-filled place is an absolute dream destination.
It boasts stunning beaches and lush forests with a vibrant culture and incredibly unique wildlife. It's truly a magical place. However, with that sense of adventure comes the responsibility for us to travel with a conscious awareness of how we temporarily impact the places we visit.
Responsible, aka sustainable travel is an approach to travelling the globe while prioritizing the well-being of local communities, the environment, and the economy. Its main purpose is to maximize the positive impact of tourism while minimizing the negative impacts.
Recently, responsible tourism has gained traction in the travel industry as more globetrotters become aware of the impact they make and increasingly hold a deep desire to give back to the communities they visit. They're changing the world y'all, and you can too. It's honestly so easy.
More specifically, responsible travel in the Philippines has become more important than ever before as the country's tourism industry continues to grow post-pandemic. More travellers flock to the country's pristine beaches, lush rainforests, and vibrant cities. But, it's crucial to do so in a way that uplifts and respects local cultures and preserves their environments.
By practising responsible travel in the Philippines, you have an opportunity to preserve the natural beauty and cultural heritage of this incredible country. All while supporting local communities and businesses. It's honestly a win-win situation which allows you to experience a much more meaningful journey and ensure the preservation of this beautiful country for generations.
At Traveller Collective, we're super passionate about commemorating the places we've been in a way that's eco-friendly and meaningful. That's why we've put together this guide that provides easy-to-implement suggestions for some of the most popular activities in the Philippines.
Practice CLAYGO Wherever You Go
Local boats take travellers island hopping around El Nido.
The beaches and islands of El Nido in Palawan are home to some of the most beautiful coastlines in the entire world. Just one day of lying in the sun here will have you wishing you could bury your feet in the sand and stay forever.
For those of you who are fortunate enough to visit this stunning location, you'll want to get familiar with the term "CLAYGO" or the "clean as you go" mindset. This eco-friendly mentality is the same as the leave no trace principle and it serves as a reminder to leave the places you visit cleaner than when you arrived. 
Practising this mindset is as simple as bringing a bag solely dedicated to trash pickup with you and collecting all the litter you find along the way. Whether it's yours or not. It also means being mindful of unintentionally leaving behind personal belongings that could harm the environment. You wouldn't believe how many stranded flip-flops get found here.
If you keep CLAYGO in mind while practising responsible travel in the Philippines you can help preserve these areas for future visitors and protect the local ecosystem. Yet another win-win in the responsible travel guidebook!
You can further help out the ecosystem in the Philippines by choosing to purchase and travel with products that have a less harmful impact on the environment.
For example, items that reduce the negative impact on the environment include:
Oxybenzone-free/reef-safe sunblock

Reusable straws and cutlery

Deet-free insect repellent

Reusable shopping bags

Rechargeable batteries

Refillable water bottles
Additionally, travelling responsibly in the Philippines also means you'll want to avoid:
Touching/petting wildlife:

look and take pictures only, don't domesticate.

Leaving trash on the ground:

it only takes a second to pick up around you.

Taking super long showers:

water is a finite resource, do what you can to save it.

Purchasing products that contain illegal materials:

consider supply and demand.

Taking shells and sand home:

choose to buy a souvenir from a local vendor instead.

Using an excessive amount of electricity:

turn everything off when you leave for the day.

Wasting food:

only order and eat what you're able not what your eyes think they can scarf down.
If you're able to practice these tips anywhere you travel in the Philippines you'll be doing more than most, and that in itself deserves a pat on the back.
Become a Farmer For a Day
The Chocolate Hills of Bohol.
The island of Bohol is a top destination for many travellers visiting the Philippines. Although the chocolate hills are a must-see when visiting the island, you might also consider visiting one of their many farms. 
Participating in agrotourism is a great way to practice responsible travel in the Philippines. These opportunities allow travellers to get up close and personal with local farming practices and rural life. They also help support local farmers by allowing visitors to buy their produce, assist with farm work and even attend cultural activities.
This fantastic way of engaging with Filipino culture and learning about the country's environment on a deeper level gives travellers a better understanding of what it's like to live in the Philippines.
One of the coolest farms you can take a day trip to on the island is the Bohol Organic & Strawberry Farm. Here you'll get the opportunity to pick your own strawberries and other produce as well as learn about farming practices on the island.
If you'd like an even more in-depth experience check out the Bohol Bee Farm. Here you'll have an opportunity to truly immerse yourself into farming life by staying on the farm and soaking in all it has to offer.
From learning about sustainable farming to dining in their restaurant that serves up deliciously mouthwatering organic food, to relaxing at the spa, there's genuinely something for everyone. Not to mention the opportunities here to learn about beekeeping and what we can do to help save the bees.
Bohol isn't the only island in the Philippines with opportunities for agrotourism though. Most of the main islands have farms you can visit and even stay at. When you're in your research phase of trip planning to the Philippines, consider staying on a farm at least once during your journey.
Have a Positive Impact on a Remote Community
The hiking trail from Buscalan with a couple of local guides.
For those of you who love the art of tattooing and learning about an extraordinary indigenous culture, the Butbut tribe of Kalinga in the village of Buscalan north of Manila will likely be high on your list.
In recent years, this village has gained a lot of popularity and attention because of an incredible woman named Apo Whang Od. She is the oldest woman in the world who still practices the ancient art form of Mambabtok or hand poke tattooing. You might have recently seen her feature in Vogue Philippines.
People from every corner of the globe flock to this village to receive the honour and gift of being tattooed by her. A tradition which is fortunately shared happily by her and other locals in the village who also practice this ancient art form. If you're planning a visit to this stunning village high in the Kalinga Mountains, there are a few things as a responsible traveller you'll want to keep in mind.
The first is to hire a local guide from the village instead of hiring a popular tour company. Although it may be tempting and easier to hire a tour company for this trip, it's important to ensure that the money you spend on this adventure directly benefits the village and its people.
You can book a guide directly from the village through this Facebook group. Remy, the main guide that runs this group, will be able to:
Answer all your questions before you arrive

Connect you with the best guides in the village

Ensure your stay in the village is unforgettable
Speaking of staying in the village, the second thing you'll want to keep in mind when you're planning your visit is to make sure you include several days to stay and enjoy the village. Instead of just getting your tattoo and leaving immediately after, staying for a few days in the village will also help to boost the local economy.
All of the accommodations in the village are homestays which allows you the opportunity to truly understand what life is like for the people in this village. Although you obviously won't be staying in a 5-star hotel, the chance to stay with a family from the village and learn about their everyday life is an incredibly unique and rewarding experience. Not to mention all the delicious food you'll get to eat!
Last but certainly not least, on your way to the village stop at a local bookstore and pick up as many school supplies as possible. Anything from backpacks to pencils to popsicle sticks; everything helps. However, if you'd like to find out in advance what the kiddos really need, a quick message on the Facebook group from above will help you figure that out.
Because this village is so remote, everything from clothes to school supplies has to be purchased from surrounding villages and carried in by the locals. The closest bookstore with common school supplies is over 30 km away which makes it difficult for the kiddos and their families in the village to access the necessary supplies needed to learn.
Purchasing school supplies from a local shop in the surrounding towns not only makes accessing school supplies for the villagers easier but it also helps boost those towns' local economies. Yet again you'll find yourself in the midst of another win-win situation.
There are even opportunities here to volunteer to teach English to the children in the village. If this is something you're interested in, ask your local guide! Even if you're not a professional English teacher, giving local students the chance to practice their English through simple conversations is more valuable than you might realize.
Altogether, we can have a great impact on this community and others if we strive to contribute to its well-being. These tips and tricks for travelling to remote places apply to any village you might visit in the Philippines. Our best piece of advice is to try and get connected with a local and then simply ask: How can I help? It's truly what responsible travel in the Philippines is all about.
The Best Adventures Leave No Trace
Practicing responsible travel in the Philippines is more important than ever considering the increase in visitors to this beautiful country post-pandemic. By adopting sustainable and responsible travel practices, you play a crucial role in preserving the natural and cultural assets of this awe-inspiring country.
This mode of travelling has an uncanny way of creating some of the most meaningful experiences, whether you're:
Staying in eco-friendly accommodations

Respecting and learning about local customs and traditions

Supporting local businesses and communities
These experiences are guaranteed to stay with you for a lifetime.
For us at Traveller Collective, we are passionate about experiences that help us clean up the planet.
Help us make a positive impact on the environment by purchasing one of our travel rings. You can use it for your trip to the Philippines and keep it as a collection with all the other countries you've visited.
You'll be contributing to a great cause and be able to carry your travel memories with you wherever you go. And the best part? We donate 5% of all our profits to Plastic Change, an amazing organization working hard to reduce plastic waste worldwide. Together we can clean our planet and enjoy travelling through its breathtaking wonders.
Let us all strive to be responsible travellers who leave a positive legacy for future generations to enjoy. Especially as we look forward to a post-pandemic future where responsible travel is more important than ever before.
If you're interested in learning more about responsible travel practices in other countries, check out our blog for information on Laos!