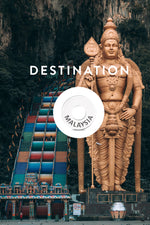 Destination: MALAYSIA
"Dynamic cities, fabulous food, beautiful beaches, idyllic islands and national parks with wildlife-packed rainforests – all of this can be found in Malaysia." 
- From our friends at Lonely Planet
A detailed guide that takes you through everything that would be helpful know before travelling to Malaysia.
Leave a comment below and share any of your travel experiences in Malaysia...can't misses, helpful tips, how to get around etc.