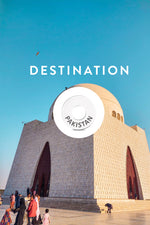 Destination: PAKISTAN
"Pakistan is blessed with abundant natural and historical riches. Incredible mountain landscapes are set against a backdrop of desert forts and stories of sultans and djinns. In its cities, ancient bazaars are home to intricately etched copper kitchenware alongside pungent spice racks and steaming tea stalls." 
- From our friends at Lonely Planet
To all the meat eaters out there...buckle up.
Leave a comment below and share any of your travel experiences in Pakistan...can't misses, helpful tips, how to get around etc.