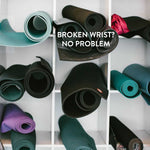 Broken Wrist? No Problem
So last week I had a little snowboarding accident whilst enjoying beautiful Mount Seymour, and ended up with a broken wrist. As painful as it was, I found myself more concerned with how i was going to exercise, then how much it hurt. 6 weeks in a cast is a log time!
Since the pandemic closed the local fitness studios in my area, I've been practicing yoga from home. I have a few favourite YouTubers, Instagrams and studio streams that I follow, but I was stuck with how to perform these classes with one arm rendered useless.
If you practice yoga online you're probably very familiar with YouTube sensation, Adriene. Here is a new favourite video of hers that focuses on lower body, with no strain on the arms or wrists:https://youtu.be/9JVXKtIfDFs
Have you ever broke a bone? What's your favourite yoga stream? Let us know in the comments!