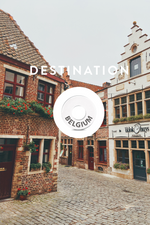 Destination: BELGIUM
"Bruges canals, Antwerp fashion, decadent chocolate, mussels and chips, belfries and castles, crazy carnivals, Tintin and Trappist beers… how could anyone call Belgium boring?!" 
- From our friends at Lonely Planet
Hand-picked by locals, here's the best things to do in Brussels.   
Leave a comment below and share any of your travel experiences in Belgium...can't misses, helpful tips, how to get around etc.