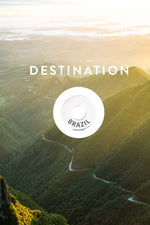 Destination: BRAZIL
"One of the world's most captivating places, Brazil is a country of powdery white-sand beaches, verdant rainforests and wild, rhythm-filled metropolises, with its attractions extending to otherworldly landscapes of red-rock canyons, thundering waterfalls and coral-fringed tropical islands. Then there's Brazil's biodiversity: legendary in scope, its diverse ecosystems boast the greatest collection of plant and animal species found anywhere on earth. There are countless places where you can spot iconic species in Brazil, including toucans, scarlet macaws, howler monkeys, capybara, pink dolphins, sea turtles and thousands of other living species." 
- From our friends at Lonely Planet
* as of August 2nd, 2022 
ENTRY:
Unvaccinated arrivals must present a Negative PCR or Rapid Test, performed by a lab, no older than 24 hours prior to arrival.
Follow Indigo Traveller  as locals take him through their favela and show him what life is really like where they live.
Leave a comment below and share any of your travel experiences in Brazil...can't misses, helpful tips, how to get around etc.