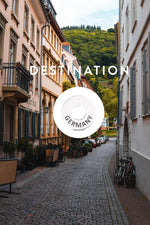 Destination: GERMANY
"Prepare for a roller-coaster ride of feasts, treats and temptations experiencing Germany's soul-stirring scenery, spirit-lifting culture, big-city beauties, romantic palaces and half-timbered towns." 
- From our friends at Lonely Planet
* as of August 8th, 2022 
ENTRY:
All travel restrictions lifted.
Elena Taber taking you through Berlin...from shopping and eats to the history of city. 
Leave a comment below and share any of your travel experiences in Germany...can't misses, helpful tips, how to get around etc.