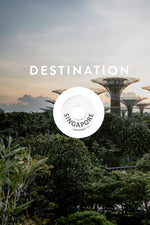 Destination: SINGAPORE
"Celebrating its melting pot of cultures, Singapore has that spark, and it's fast becoming one of Asia's hit-list destinations." 
- From our friends at Lonely Planet
Lois You vloggin' her way through the restaurants and shops of Singapore.  
Leave a comment below and share any of your travel experiences in Singapore...can't misses, helpful tips, how to get around etc.