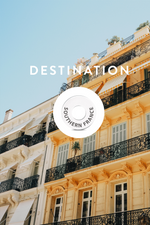 Destination: SOUTHERN FRANCE
"Whether you're cruising the clifftop roads, sunbathing on the beaches or browsing the weekly markets, Provence and the Côte d'Azur are sexy, sun-drenched and seductive." 
- From our friends at Lonely Planet
A girl's trip through Southern France, can't beat it. 
Leave a comment below and share any of your travel experiences in Southern France...can't misses, helpful tips, how to get around etc.