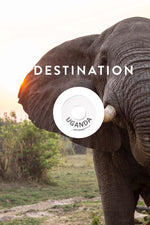 Destination: UGANDA
"The source of the Nile river starts in the Rwenzoris, Africa's tallest mountain range that stretch across western Uganda shrouded in mist and teeming with glaciers, waterfalls and alpine lakes. These 'mountain's of the moon' are the home of Uganda's mountain gorillas and tracking them through this majestic habitat is one of the country's most iconic experiences. " 
- From our friends at Lonely Planet
* as of February 14th, 2022 
ENTRY:
Must provide a negative test within 72 hours of boarding flight. 
All travellers required to take PCR test upon arrival. 
WHILE THERE:
7pm curfew for boda bodas (motorbike taxis).
A bold statement by Lost Leblanc, but you can judge for yourself :) 
Leave a comment below and share any of your travel experiences in Uganda...can't misses, helpful tips, how to get around etc.