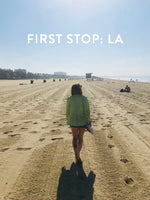 First Stop: LA
Los Angeles was the first stop on my Husband and I's honeymoon before heading on our road trip through Arizona and Utah. And although the rumours were true about horrendous traffic and that nobody seemed to walk anywhere – we were in heaven. WARMTH IN OCTOBER!! The cafes are cute, especially Cafecito Organico in the Silver Lake neighbourhood with the coziest outdoor seating that seems like you're just hanging out in someone's backyard. The Mexican food was delicious. Our favourite place to hit up on a daily basis was Las Glorias Del Buen Comer for pork tacos and guacamole – Yum! The Arts District was also a fun place we found ourselves exploring different breweries, riding electric scooters and seeing a show. Oh – and of course Venice beach!

There's just something about LA that's vibrant and strange all at once and we loved it. So, whatever reason you're in LA you'll definitely find yourself amused. 
 What's your favourite thing about Los Angeles? Let us know in the comments below!
Las Glorias Del Buen Comer 
The Arts District