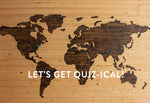 Let's Get Quiz-ical!
You're stuck inside, you've watched Friends way too many times and you feel sluggish and lethargic. You can't bring yourself round to physical exercise just yet, but how about giving your brain a workout?
When I'm bored at home, I often turn to Sporcle. This website is jam-packed with quizzes on all sorts of topics, from gaming to movies to science! I like to give my memory a good stretch on the timed geography quizzes. There's a huge variety of quizzes, at different levels of difficulty. Last week I managed to name 36/47 countries in Europe and 44/50 US States…on both I went mind-blank at 4 minutes!
Will you fare better than me? Next time you're struggling to think of something to do, just get quiz-ical!