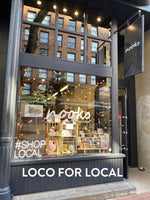 Loco for Local
Since the pandemic began, and travel was put on hold, more and more of us have been re-discovering our local area. Personally, I've made an effort to buy takeaway food from nearby restaurants and delicious beer from craft breweries! Although it's been odd not being able to travel far, now I feel I appreciate what's in my immediate vicinity a whole lot more.
Though Traveller Collective has international appeal, our roots are in Vancouver, Canada. We try, wherever possible, to champion local suppliers and partners. As you all know, this past year has been difficult, especially for a small business in the travel industry. However, we are excited to announce we're now part of The Nooks!
The Nooks is a creative space that allows Canadian artisans and entrepreneurs to sell their handmade items both in-store and online. We love the idea of local people supporting local businesses and being a maker with The Nooks allows us to reach a more local audience. As well as this, we get to meet loads of other makers and discover new, Canadian-made products. This is our first dip into selling in a retail setting, and we're stoked to be onboard with The Nooks!
Vancouverites, you can now find Traveller Collective products in The Nooks Gastown.