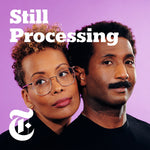 LISTEN: Still Processing Podcast
Throughout the year, I have had a tumultuous relationship with podcasts. Whether it is finding the right fit, weighing the pros and cons between the value in listening to something informative vs. informational... the list can go on.
It wasn't until the recent return of probably my favourite podcast of all time, The New York Times' Still Processing, that my woes were put to bed. The podcast talks everything popular culture, and the culture that surrounds being a young-ish, mindful-ish human person trying to survive in the 'modern' world!
In their returning episode, Now That's What I Call A Bridge!, they broke down the recent boom of the song Drivers Licence by Olivia Rodrigo and its impact on popular culture, explaining, 'Bridges used to be a core feature of popular music, but they've become an endangered species, right next to the sitcom laugh track.'
Some of my favourite episodes include their deep dives on the lives and careers of some of our most beloved musicians including Lauren Hill, Whitney Houston and Tupac.
You can listen to Still Processing on Apple Podcasts here and Spotify here.,