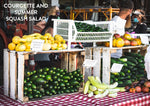 Courgette and Summer Squash Salad
Spring has officially sprung here in the Pacific Northwest and we couldn't be happier for all this sunshine and warmth. It already has me dreaming up beautiful picnics, tapas nights and BBQ. One of my favourite dishes to make is for those warm spring/summer evenings, a perfect accompaniment to whatever you've just taken off the grill. A ribboned courgette(zucchini) and summer squash salad! It's got a zesty citrus finish with a kick of heat from the chilis that you keep you going back for more - if it lasts during first helpings! 
The Recipe:
2 Courgette (Zucchini)
2 Summer Squash
1 Cucumber
1-2 Fresh red chili or ½ tsp chili flakes(Optional)
Feta Cheese
Zest and juice of 1 lemon 
1-2 Tbsp Fresh dill
Drizzle of extra virgin olive oil
Maldon salt and cracked black pepper to taste
Directions:
Step 1
Using a vegetable peeler make long ribbons with your courgette, summer squash and cucumber. Make sure you stop with the cucumber once you reach the seeds as we don't want to add water to the salad. Place into large bowl.
Step 2
Thinly slice your chili and pick your dill off the stem and toss into bowl. Then Zest and juice lemon straight into salad as well and toss.
Step 3 
Drizzle in olive oil and add salt and pepper to taste. Finish by crumbling desired amount of feta cheese on top (I would go for the whole pack personally!)
And that's that! Super easy, bright, and delicious! It's sure to be a Summer favourite. Let us know if you try the recipe or if you have any salad recipes you like to make in warmer weather in the comments below!