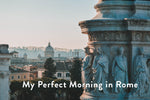 My Perfect Morning in Rome
Written by Collective Member: Lacey Moore
Find Her at www.lacesplaces.wordpress.com 
Hey all!
I'm here with some super fun little insight into what my perfect morning in Rome consists of! As you'll soon come to learn, Rome is one of my all-time favourite places in the world. I truly love the history, architecture, art, the locals, not to mention all that amazing food and wine! I've been to Rome about six or seven times now, with many mornings spent wandering over those ancient cobbles, so I like to think I've pretty much nailed how to spend a perfect morning in the eternal city…
Wake up early
Piazza Campidoglio
That's right! In my opinion, the best (and only) way to get a true feel for a destination is to be up with the locals! If you're right in the city centre, it'll be difficult for you to sleep past 8am with all the hustle and bustle, not to mention smell of fresh coffee and bread, wafting through your window. I love a lie in as much as the next gal, but there's something enchanting about being out and about, getting lost between the locals before the hoard of tourists head out and swamp the streets for the day. Besides, there's plenty of time for sleep when you get home!
For me, I'm up at 6am and out of the door for 6:30. Whilst you may have a hard time finding anything open at that time, it doesn't bother me since I really love just taking a bit of time to enjoy the sights and empty roads, as well as that fresh morning air that still has a bit of a cool nip to it (it's also a great time to get some solo pictures without some tour group destroying your photoshoot). You'll also beat all the queues at those museums you've been dying to visit!
The Pantheon
My favourite things to see first thing in a morning are the Trevi Fountain, Vittorio Emanuele II monument or Vatican City (although I will admit it took me way too long to choose just three)! Thankfully, the last time I was in Rome I was only a short walk away from all of them, which was perfect! I stayed at Private Luxury Suites on via del Corso – the main shopping street in the city. Let me tell you, it was my favourite place I've ever stayed in Rome. The location was absolutely amazing; right in the middle of the action and surrounded by fabulous restaurants, and the room itself was so beautiful and fresh. We managed to get an absolute steal through booking.com, so I would 100% recommend the place! You can check it out here. At one end of via del Corso, you've got Piazza del Popolo, and at the other you've got the Vittorio Emanule II momument!
Antipasti at a cute little ristorante near Private Luxury Suites
While you're wandering the shady streets one morning, take a moment to really take note of what's going on around you. Sure, there's hardly any people around, but what are your other senses telling you? You may be lucky enough to hear a local gent playing the radio while drinking his first espresso of the day with his wife, maybe an elderly lady is walking her old dog, or even a young couple smoking a cigarette and watching the world go by. 
Wherever you go, I'm sure you're going to see something amazing!
Food!
Pizza Bianca with mortadella and Nutella. Credit: @Gino_1950 on Instagram
My favourite bit! Breakfast dates are the unsung hero of my life. However, when you've a city full of art and history to explore, the dates will have to wait until later in the day. When on a city break, I don't tend to eat a lot of breakfast since in the summertime it's way too hot to eat, and I'd rather just grab a bite while out and about. Not only that, but Italians aren't massive breakfast eaters anyway; you'll be lucky with a pastry and coffee. With that being said, there are some really amazing, authentic little sandwich and gelato bars which you can takeaway food from, and sometimes restaurants even have a little deli counter too. Another thing which you'll notice is the vast number of little bibite vans at all major tourist spots, selling everything from fresh sandwiches to frozen bottles of water (a God send in the height of summer) for as little as one euro. Don't worry about not finding anywhere to eat because there are literally hundreds on the streets, and so many amazing options that aren't on Google maps or Instagram.
One place I would recommend is Gino on via del Corso. This little place was an amazing find, right next to our accommodation! It's just a little counter facing out onto the street and a tiny waiting area next to it, and all they sell is pizza bianca with either mortadella or Nutella. If you're not familiar with pizza bianca, please don't be fooled into thinking you're about to receive a fat slice of pepperoni pizza – it's really just a type of light bread, drizzled with olive oil and salt, kind of like a ciabatta (but better)! The shop's concept is just super simple but they absolutely nailed it on the service and execution; we must have gone back about 3 times! You can check out their website here and next time you're shopping down via del Corso, remember to check it out!
Panoramic views
View from inside The Vatican Museums
Duh! No city break would be complete without an opportunity to overlook the whole thing! These can be beautiful at either sunrise or sunset, and I couldn't possibly chose between them. On the one hand, in a morning you can watch the city wake up and experience the rise in excitement and busy-ness. But in an evening you get to wind down, maybe after a glass or two of Aperol spritz, and truly embrace the beautiful romantic atmosphere that the city provides.
My favourite viewpoint in the whole of Rome is from the terrace of the Vittorio Emanuele II monument. You truly don't understand the sheer size of the monument once you walk up the façade's stairs (yep, you feel like a bad bitch) and once you work your way through the war museum on the marble interior, you can go up to the terrace in a glass elevator! From there, you get a 360 view of the whole of Rome, and it's even more spectacular than you can imagine!
So there you have it! Remembering my trips to Rome have given me so much bittersweet nostalgia and just makes me miss it even more! I hope you find how to make your morning perfect in Rome – maybe I'll see you around!
Lace x