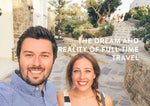 The Dream and Reality of Full-Time Travel
I'm sure many members of the Collective fantasise about quitting their jobs and travelling full time. We spoke to Kirsty and Craig, who did just this, and are now vlogging their way around the world! Their YouTube channel 'Tide Knot Travellers' documents their journey so far, but we wanted MORE. So we asked…
What's your story?
Craig grew up in Hertfordshire, UK and Kirsty grew up in Somerset, UK.
We both studied at Plymouth University which is where we met – Craig was starting an MSc and Kirsty was going into her 3rd year BSc. Craig was looking for new accommodation, decided on a house and moved in – it was empty at the time, apart from one room which Kirsty was occupying, but she was at home for the summer. We met when Kirsty returned in September, along with other housemates. 
We were friends at first and began dating a few months later in the following January: we celebrated 10 years together January 2021 :)
We both got full time jobs after graduating and moved first to Hampshire, and then Hertfordshire with the plan of saving enough money to travel the world for 1-2 years and then potentially move abroad. We bought a house, got married, worked hard and saved even harder and left to travel the world on 1st March 2020.
Why did you choose to have a destination wedding?
We both love being by the sea, the beach and being outside in a natural environment; so knew this is where we wanted to get married. Having seen some beautiful places on overseas holidays, we knew that getting married in a church wasn't for us.
We wanted to share our love of travel with our friends and family, we felt that everyone would have quality time together with a destination wedding. With it being further to travel, people tend to take more time and make a longer trip of it, because of this the whole atmosphere tends to be more relaxed…the sun, sand and sea also help a lot!
After a lot of research, we decided on Europe and booked a trip to Sardinia (Italy) to find a venue in June 2017. We love Italy and knew that we would be spoiled for choice in terms of beautiful, untouched beaches. There are some places we considered in the UK but didn't find the right thing for us and wanted more of a guarantee in terms of the weather!
We felt a destination wedding can also be more exclusive, with more of a personal touch. Our venue wasn't a 'wedding hotel', in fact ours was the only wedding that whole year! We had real quality time for a week with 70 of our friends and family in a quiet resort in Sardinia.
How did you come to the decision to travel full-time?
Craig's favourite book as a child was The Magic Globe and, at the age of 13, he wrote a full itinerary of a round-the-world trip. He's always loved looking at globes and maps, Geography was his favourite subject at school. Kirsty worked onboard a cruise ship travelling around the Caribbean for almost a year and then backpacked around Australia for a few months.
That wasn't enough though, and we both spent so much time planning 'travel type' holidays; we've never been the type to book a week lying on a lounger in the sun, we prefer adventure and want to soak up everything about a place when we visit.
We have both been fortunate enough to go abroad on family holidays growing up, as we've got older, we've been on trips with friends, and then together, all of which have captured our imaginations. Since we met, we've done a fair bit of travelling together – we both always ideally wanted to meet a like-minded partner to explore the world with and we know how fortunate we are to have found that in each other.
We tend to go on fairly adventurous trips and have found, with the vacation allowance available, that we've only been able to fit in a fraction of what we'd like to see and do. On a trip to Hong Kong and the Philippines in 2017 we had planned to visit 3 different locations during our stay, but because of the leaving immediately after work (to maximise time), the long journey and jetlag exhausted us. Then Craig had an accident which inflicted a nasty wound. This had a knock-on effect, meaning we couldn't do some planned dives. Our flight was cancelled on one of the islands and the rescheduled one wasn't until the next day, which consumed most of our time at the next destination. This all led to us wanting more time to really enjoy exploring the world.
In previous jobs, Craig has been able to work around the world, but this meant spending time apart – we wanted to see the world, and spend our time, together. This became particularly apparent in the months following our wedding, when we felt like we had got married to be together and then were in a position where we spent most of our time apart!
We both want to travel and see the world while we are young, active and capable – there are many things we want to do which perhaps aren't possible when you're older. There's also trips that aren't possible to do within a vacation period allotted from work.
What do you do for work?
Kirsty teaches online and we are YouTubers and digital content creators. Prior to this, Kirsty was a consultant working in the security industry and Craig was a geologist.
How easy is YouTubing when you're on the go all the time?
It is a lot of work – especially the editing of videos – but we absolutely love it! You have to change the way you travel and take a bit longer when filming, editing and releasing regular content. It's a fantastic way to really get to know places – we learn about a place on the days we film it, then when editing we pick up on things we perhaps didn't see at the time. We learn more detail and history when researching for voice-overs and the final video too…it's great!
It can be tricky to plan how long you need to stay in one particular location, as there are so many factors such as weather and accessibility. We've done entire days of filming only to arrive at the main location to find that it's closed, particularly during the pandemic. For these reasons it's good to have flexibility with accommodation and flights, but that can also lead to more expense, so it's a tricky balance.
How did the pandemic affect your plans?
Unfortunately, the pandemic destroyed our Plan A, Plan B, Plan C…etc.
Our original plan was to fly to Russia and pick up the Trans-Siberian Railway from St Petersburg stopping in Moscow, Yekaterinburg (Ural Mountains), Lake Baikal, Ulaanbaatar (Mongolia) with a stay in Yurts in National Park, before arriving in Beijing (China). From there we had booked the train to Shanghai and a flight to Zhangjiajie National Park, before making our way to Nepal to trek to Everest Basecamp – our top thing we want to do before (hopefully) starting a family one day!
In January 2020, the outbreak in China was announced and the company planning our Trans-Siberian trip were initially reluctant to cancel. They gradually tapered, altering the trip to end in Ulaanbaatar (avoiding China), before ultimately acknowledging the issue was far wider and cancelling the trip all together.
We had to wait until we had confirmation that this trip was cancelled before we could come up with a Plan B, this happened mid-February. Because we had already spent the time and money on the Russian visas, our new plan was to visit the Russian cities (St Petersburg, Moscow & Yekaterinburg) as originally planned, but by plane instead of taking the train, before flying to Minsk (Belarus).
Ultimately, when we arrived at Moscow airport in early March, we were told we could not fly directly into Minsk from any Russian location as non-natives of Belarus…who knew!! As a UK citizen, you can only get into Belarus specifically via flight directly from the UK to Minsk – not from Russia to Minsk.
We then had to pay for a new flight to Vilnius (Lithuania) instead, which we planned to travel to overland, after Belarus. From Vilnius we drove up through Latvia to Tallinn (Estonia). When we arrived at Vilnius airport it started to become apparent that the world could potentially close down, as there were officers standing at arrivals holding COVID-19 warnings and asking those who had been to China or Italy recently to please report to them. Then, at our hostel in Vilnius, the staff were updating everyone with closures around the world and latest local announcements. When we arrived in Riga (Latvia) most attractions were closed, but by this point we had to deliver our hire car to Estonia.
We left Riga on the day we had originally planned, which just so happened to be the day all borders were closing – we crossed the Latvia/Estonia border at around 5pm and it closed at 11:59pm!
After Estonia, our plan had been to get the ferry to Finland and then Sweden, before getting the train to Denmark. From Denmark we had a flight booked to Buenos Aires (Argentina) with the plan to explore the city, before travelling to Patagonia for some trekking. From there we intended to travel around South America. Our logic with this Plan B was to head West instead of East – away from the part of the world affected, before it became clear the whole world would be affected.
We ended up staying in Estonia for 6 months and travelled around the country, we were on the front cover of an Estonian National newspaper and on a TV show, before eventually making our way to Finland as planned. From there we came up with a new plan and made our way to Greece.
Where is the BEST place you've visited so far?
It's really tough to name 1 or 2 places, as we really appreciate different types of adventures, whether it be in the wilderness or a city break, so here's our top 3!
Tanzania – We went on land and river safaris and stayed in a wooden hut on the beach, we also visited an African school for girls that we had been raising money for back in the UK. We took a tiny plane from Tanzania and stayed in the beautiful Melia Hotel on the Indian Ocean in Zanzibar, which has a wooden pier with a restaurant at the end; this is where we got engaged in 2016.
Hong Kong and the Philippines – The city and cultural sights of HK are amazing, and we loved the views across the HK skyline from Victoria Peak as the sun set.
The natural beauty of the Philippines is incredible – we snorkelled and dived with an array of marine life, went on boat trips to deserted tropical islands, swam in waterfalls, and explored islands and beautiful beaches on a scooter. It's a dream destination for anyone that likes tropical adventures in the sun and sea!
Florida Keys – We hired a car from Miami and spent a week driving along the Ocean Highway to Key West, with The Beach Boys playing in the background. This is another trip for anyone who loves tropical adventures – diving with rays, kayaking with manatees and watching the sunset at Mallory Square (Key West) were some of the highlights!
Where next for Tide Knot Travellers?
We are currently working our way through footage from our travels last year and trying to make it last us through the lockdown period in the UK, with no travel until we know it is possible to travel safely again.
We are also trying to build our brand and establish some streams of revenue to become sustainable, as remaining in Europe for so long made a dent on our travel budget. We hope to continue travelling soon and are keeping up to date with the latest possibilities.
Trekking to Everest Basecamp is something we are still really keen to do as soon as possible – we've wanted to do it for a long time but because of previously mentioned limitations (work etc.) we have been unable to. Something we want to do before children…would be tricky with kids!
To sum up, we are putting our all into it and it's been the hardest thing we've ever done, but it's also up there with the best and most rewarding thing we've ever done and we love it! We work more hours than we ever have and make less money than we ever did (nowhere near minimum wage for the hours) but we're happier than we've ever been because we're chasing our dreams and seeing the world; we just pray that it opens back up soon so that we can carry on.
You can follow Craig and Kirsty's journey via these channels: