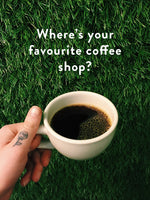 What's Your Favourite Coffee Shop?
Before working at TC, I spent the majority of my working life in the coffee world. Although I don't necessarily miss the hustle and bustle of the morning grind, I do miss the smell of delicious coffee and the peace that came from quiet evenings closing the shops and getting to know new people who trickled in. Working in a coffee shop can feel a lot like travelling in that way and eventually it will feel like you're working in a small town where you know everyone's name.
Recently we sat around at the office talking about the best cups of coffee and our favourite cafés that we've been missing. Below you will find a list of the ultimate fav's of the TC Fulfillment crew!
My favourite coffee is from Drumroaster and my favourite café would have to be Hey Happy that I  spoke to in my previous blog post: My Perfect Afternoon in Victoria: Lower Johsnon & Market Square
Jas: Algerian Coffee Stores and favourite cup of coffee from Cà Phê VN.
Matt: Nelson the Seagull
Rebecca: Bold Street CoffeeWhere's your favourite coffee shop?
Let us know in the comment section below!